Balancing Tribal Economic Development, Sustainable Cultural Uses and Wetland/Aquatic Resource Protection and Restoration
Held Tuesday, June 25, 2019 - 3:00pm-5:00pm Eastern
INTRODUCTION
Marla Stelk, Executive Director, Association of State Wetland Managers [POWERPOINT PRESENTATION]
PRESENTERS
ABSTRACTS
Tom Elliott
The Yakama Nation's Toppenish Creek Corridor Enhancement plan is a long-term, integrated project to restore and manage natural and cultural resources along lower Toppenish Creek in the Yakama Reservation. Lower Toppenish Creek flows out of mountain headwaters, across a large alluvial fan, and then for 32 miles through expansive floodplains that formed in an ancient channel of the much larger Yakima River. The extremely low stream gradient and broad floodplains support extensive wetland complexes, which in pre-development times provided rich wetland and aquatic resources to the Yakama people, including salmon and steelhead runs in the stream and wapato (Sagittaria latifolia) and tule (Schoenoplectus acutus) in wetlands.
However, in the late 1800s Tribal land began to be sold under the Dawes Act and large-scale irrigated agriculture was initiated. In the early 1900s, the Wapato Irrigation Project was established and eventually built out to encompass over 180,000 acres of land and over 1,100 miles of irrigation canals and ditches. This vast system utilized lower Toppenish Creek as a sump and conveyance canal for return flow from up-slope irrigation water, with negative effects for natural and cultural resources. Wetlands and the alluvial fan were drained, the creek channel became channelized in certain reaches, and polluted water flowed into the channel. Salmon runs were extirpated, steelhead runs declined dramatically, and wetland plants became unavailable for tribal use.
To redress this damage, the Toppenish Creek corridor plan calls for 30 years of actions to separate the irrigation system from the natural stream, restore in-channel and floodplain habitat, increase water quality, enact land protection, and recharge alluvial fan groundwater while maintaining the important agricultural economy. In this presentation I described the lower Toppenish Creek ecosystem, changes brought to it by agricultural development, and the philosophy, approaches, and actions the Yakama Nation has developed to restore and manage Tribal resources.
Allison Warner
Quil Ceda Village in Lieu Fee Program – Mitigation from a Watershed Approach in the Tribal Context
Quil Ceda Village (QCV), an incorporated, Federal Tribal City, completed approval of the first Tribal In Lieu Fee (ILF) program in the nation, in November 2013. QCV, is an interesting story of 2,000 acres of the Tribes 22,500-acre land base that was seized under imminent domain by the Department of Army during WWII for the purposes of an ammunitions depot, and then repurchased by the Tribes. This area is currently zoned for development as the Tulalip Tribes' urban commercial area, being located at the eastern perimeter of the Reservation, and adjacent to Interstate-5. However, this is an area of historic wetlands that were ditched, drained and filled by the Department of Army. The Tribes sought a mechanism for addressing wetland impacts from potential Lessees on tribal land within the city that could also provide for a smoother leasing and development process. The ILF program allows for a separation of mitigation plan approval from the lease negotiation and permitting process, while allowing the tribes to use fees collected from lessees to achieve restoration goals in the watershed. A watershed-based Compensation Planning Framework of resource loss and needs guides all of the mitigation site and project selection process for the ILF. As the first tribal ILF program in the nation, several key issues specific to Indian Country and legal issues challenged and guided development of the program.
Kara Kuhlman
The Lummi Indian Reservation (Reservation) is located in northwest Washington State, approximately 80 miles north of Seattle, Washington and 60 miles south of Vancouver, British Columbia, Canada. The Lummi Nation Wetland and Habitat Mitigation Bank (Bank), which generates mitigation credits to compensate for unavoidable wetland impacts occurring on the Reservation and within the Bank's service area, is the first tribally developed and operated commercial wetland mitigation bank in the United States. The Bank is comprised of nearly 2,000 acres on three separate sites within the Nooksack River floodplain and estuary on the Reservation and is part of both a wetland management program and an overall salmon and shellfish habitat restoration effort. As part of the Lummi Nation's ongoing efforts to balance residential, municipal, and commercial development with natural resources protection, the Bank provides for the long-term wetland mitigation needs of tribal members, the tribal government, and other public and private end users to ensure effective compensatory mitigation for unavoidable impacts of development activities. The purpose of this presentation was to provide a brief overview of why and how the Bank was developed and to discuss how the Bank supports tribal sovereignty and the protection of natural and cultural resources.
BIOS
Tom Elliott is a biologist working for the Yakama Nation on floodplain management and restoration. He hails originally from Virginia, where he fell in love with hardwood forests and swamps just beyond his backyard. Moving west, he worked in the San Francisco Bay area, immersing himself in the native flora and abundant weeds of the coastal hills while he worked in native plant restoration for a National Park. In 2005 he arrived in Yakima and was awed by the shrub-steppe desert and the beautiful streams and rivers that run through it. He earned his master's degree at CWU in biology, studying the riparian cottonwood forest and trying to understand the interplay between natural and human driven processes along the Yakima River. His goal is to contribute to conserving and restoring floodplain, riparian, and wetland ecosystems in Central Washington in support of Yakama tribal resource values.


Allison Warner has been working as a wetland ecologist/wetland program coordinator for the Tulalip Tribes at Quil Ceda Village since 2008. She developed and obtained approval for the Quil Ceda Village in-Lieu Fee Program and works in strategic planning, permitting and wetland mapping and mitigation for Quil Ceda Village. She developed a watershed scale wetland mitigation plan for Quil Ceda Village in association with the In Lieu Fee Program. Allison has been involved in restoring Northwest landscapes since 1992, upon graduating from the UC Berkeley College of Forestry and Natural Resources. She has a Master's of Science in forest ecology, and a Bachelor's degree in soil science, both from UC Berkeley. She currently serves as Executive Vice President for the Society for Ecological Restoration Northwest Chapter and has served with the Board since 2007.


Kara Kuhlman has over 10 years of experience in natural resources management. She has worked for the Lummi Nation's Natural Resources Department since 2013 and has been the Water Resources Manager since 2018. She has a Masters of Sciences Degree and a Bachelors of Sciences Degree in Environmental Science and is a Certified Floodplain Manager. Prior to working for the Lummi Nation she was Adjunct Faculty at Western Washington University's Huxley College of the Environment and a Field Biologist working with a range of public and private partners throughout the Pacific Northwest.
Part 1: Introduction: Marla Stelk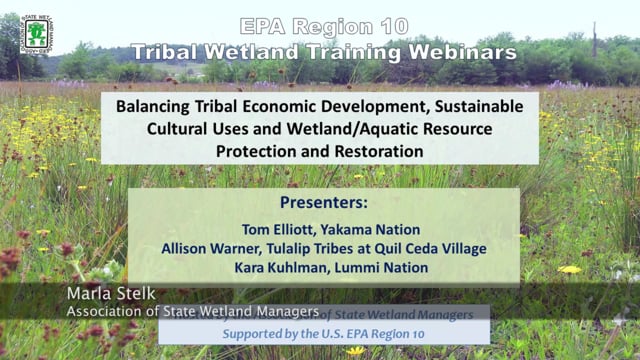 Part 1: Introduction: Marla Stelk, Executive Director, Association of State Wetland Managers
Part 2: Presenter: Tom Elliott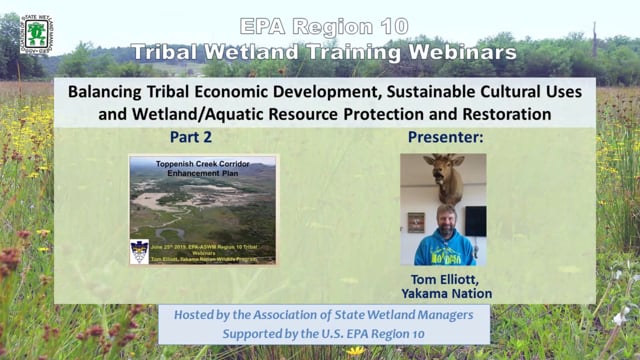 Part 2: Presenter: Tom Elliott, Biologist for the Yakama Nation Wildlife Program
Part 3: Presenter: Allison Warner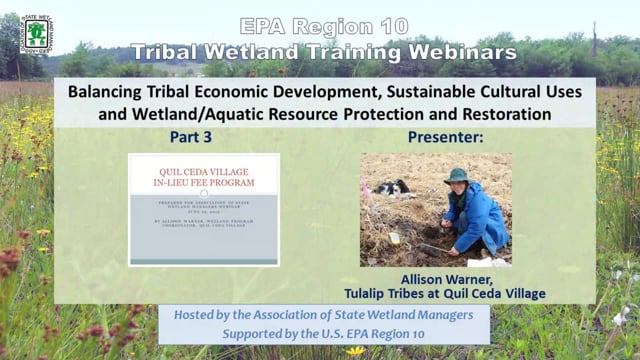 Part 3: Presenter: Allison Warner, Wetland Ecologist/Wetland Program Coordinator for The Tulalip Tribes at Quil Ceda Village
Part 4: Presenter: Kara Kuhlman
Part 4: Presenter: Kara Kuhlman, Water Resources Manager for the Lummi Nation
Part 5: Questions/Answers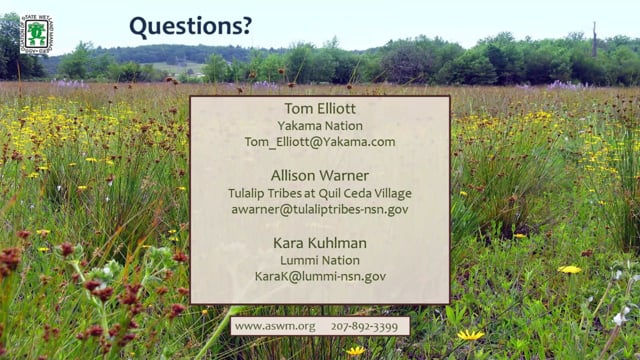 Part 5: Questions/Answers
View Past Tribal Wetland Programs Webinars Here
View a List of Tribal Wetland Programs Webinar Recordings Here