Cultural Values Based Planning for Integrated Wetland Management on a Watershed or Reservation Scale
Tuesday, November 6, 2018 - 3:00 p.m.-5:00 p.m. ET
INTRODUCTION
Marla Stelk, Executive Director, Association of State Wetland Managers [POWERPOINT PRESENTATION]
PRESENTERS
ABSTRACTS
Jon Hall
The Reservation of the Tulalip Tribes of Washington covers approximately 22,500 acres on the Puget Sound coast in western Washington. Two priority projects illustrate how traditional ecological knowledge and cultural information is incorporated in the tribes' wetland management activities. The detailed wetland inventory covering the reservation is currently being updated. The database that houses the wetland data layer has been modernized so that daily updates to the inventory are viewable by all tribal programs (e.g., forestry, transportation, and planning departments) within 24 hours. The inventory includes data fields that identify cultural/sensitive species, provide a cultural "score," and record notes on traditional uses by tribal members. The Tulalip Tribes' Wetland Monitoring and Assessment Program includes the collection of cultural information and traditional knowledge for each wetland on a Wetland Cultural Values Checklist. In addition, the presence and abundance of every plant species is recorded along with a rating (on a scale of 1 to 5) of its accessibility. For example, a rating of "1" indicates that the plant species is "accessible to tribal elders; ,0.25 mile from nearest road; and flat to gentle slope, and walking shoes OK."
Tom Elliott
The Yakama Nation considers meadows to be hotspots of cultural and natural resource values. Meadows within the Yakama Reservation extend from the upper shrub-steppe fringe to alpine areas, and support cultural foods and medicines and habitat for numerous wildlife species. In order to plan and sequence restoration and management of meadows, the Yakama Wildlife Program undertook a climate vulnerability assessment using funding from the Bureau of Indian Affairs.
The assessment included a ground based rapid assessment, remote sensing based modeling of meadow greenness and soil moisture, climate modelling for moisture regime in the past and future, and a decision matrix synthesizing these components. The results indicate that moisture regimes in meadows have changed over the last 35 years in terms of trends and abrupt change points. Project future changes include drying along an elevation gradient and shifts towards an earlier timing of maximum soil moisture for many meadows.
Andy Robertson
The Stockbridge-Munsee Mohican Community's Environmental Department (SMC) has created a web presence in order to share the accomplishments of its ambitious wetland development program with the public and other stakeholders. The website is incorporated into the Stockbridge-Munsee Community's existing web presence and includes wetland program information along with a variety of static and interactive maps and infographics about the tribal community and its history. The website employs a combination of ESRI Story Maps and traditional web content to describe topics such as:
Wetland development program goals and progress of the Tribe's wetland restoration/demonstration projects

Education of tribal members and the general public about importance of wetlands

Improving communication with partnering agencies

Providing a repository of accessible/interactive wetland data

Providing summarized water quality data/impaired watershed assessment data
This presentation provided an overview of the goals and objectives of the SMC wetland program, the link between wetland management (including inventory and restoration) and tribal history and culture and a demonstration of the final website.

BIOS
Jon Hall is the Wetland Biologist for the Tulalip Tribes of Washington where he manages the tribes' wetland programs. His work in wetlands began in 1975 when he was a biologist for the New York State Wetlands Inventory. Between 1976 and 1981, he worked for the U.S. Fish and Wildlife at the headquarters of the National Wetlands Inventory (NWI) in St. Petersburg, FL. In that position, he was involved in wetland mapping in over 32 states. Between 1981 and 2001, Mr. Hall was the NWI Coordinator for Alaska. He held the same position for the Pacific Region (CA, OR, WA, ID, NV, HI, and the Pacific Islands) between 2002 and 2006. Following retirement from Federal service, Mr. Hall was an environmental consultant until being hired by the Tulalip Tribes in 2016. As a consultant, he provided wetland assessment expertise for large projects throughout the U.S. such as pipelines, mines, and windfarms. Mr. Hall has also worked on specialized projects including assisting the government of Greece (through the U.S. State Department) in starting a Greek Wetland Inventory; and working with the Central Intelligence Agency to utilize classified satellite assets to inventory wetlands and hydrologic features, and monitor wildlife populations (e.g., walrus).
Tom Elliott is a Riparian Ecologist working for the Yakama Nation on floodplain management and restoration. He hails originally from Virginia, where he fell in love with hardwood forests and swamps just beyond his backyard. Moving west, he worked in the San Francisco Bay area, immersing himself in the native flora and abundant weeds of the coastal hills while he worked in native plant restoration for a National Park. In 2005 he arrived in Yakima and was awed by the shrub-steppe desert and the beautiful streams and rivers that run through it. He earned his master's degree at CWU in biology, studying the riparian cottonwood forest and trying to understand the interplay between natural and human driven processes along the Yakima River. His goal is to contribute to conserving and restoring floodplain, riparian, and wetland ecosystems in Central Washington in support of Yakama tribal resource values.
Andy Robertson is currently Executive Director of GeoSpatial Services at Saint Mary's University of Minnesota. In this role, Andy is responsible for oversight and management of all GeoSpatial Services projects, activities and staff. GeoSpatial Services is engaged in a wide variety of projects across the Lower 48 and Alaska including: wetland inventory; National Hydrography Dataset updates; spatial data development; and, natural resource condition assessments. Andy earned a Forest Technology Diploma from Sault College of Applied Technology in Ontario, Canada, a B.Sc. in Environmental Science from the University of Waterloo and completed postgraduate work in forest management at the University of Toronto. GeoSpatial Services has been a key partner of the USFWS and has been working for over 15 years to update legacy National Wetland Inventory data across the nation. Andy is a steering committee member for the ASWM Wetland Mapping Consortium and is co-chair of the Alaska GeoSpatial Council Wetland Technical Working Group.

Part 1: Introduction: Marla Stelk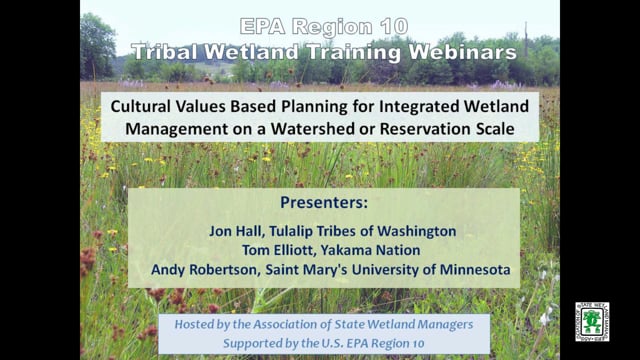 Part 1: Introduction: Marla Stelk, Executive Director, Association of State Wetland Managers
Part 2: Presenter: Jon Hall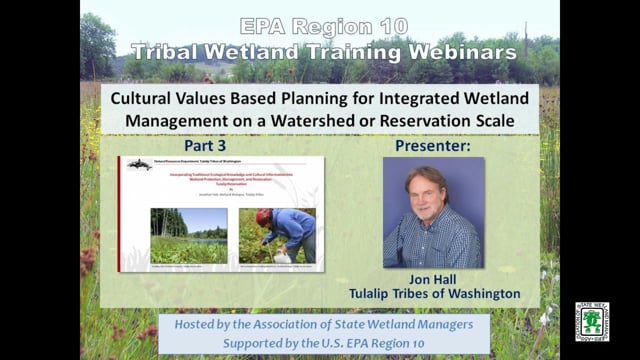 Part 2: Presenter: Jon Hall, Tulalip Tribes of Washington
Part 3: Presenter: Tom Elliott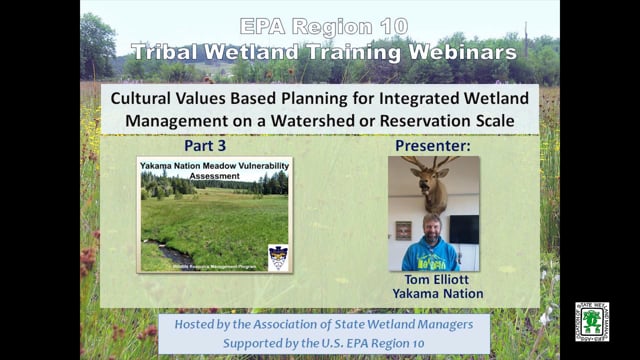 Part 3: Presenter: Tom Elliott, Yakama Nation
Part 4: Presenter: Andy Robertson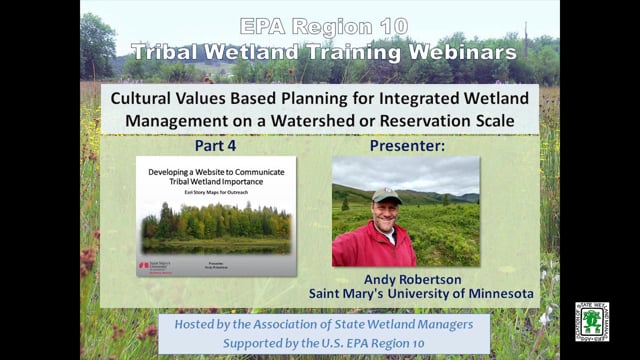 Part 4: Presenter: Andy Robertson, GeoSpatial Services at Saint Mary's University of Minnesota
Part 5: Questions/Answers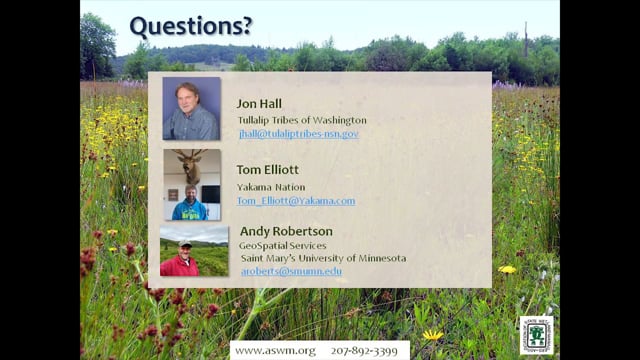 Part 5: Questions/Answers
View Past Tribal Wetland Programs Webinars Here
View a List of Tribal Wetland Programs Webinar Recordings Here
View Upcoming Tribal Wetland Programs Webinars Here